Price of Bungee Jumping in Rishikesh
Bungee jumping price in Rishikesh is starting from INR 3550 per person and if you wish to do two other adventure sports that are giant swing and flying fox with bungee jumping, then it will cost you up to INR 8250 per person. Below are the rates of bungee jumping in Rishikesh with other adventure activities -
| Activity | Price |
| --- | --- |
| Bungee Jumping | Rs 3550 |
| Giant Swing | Rs 3550 |
| Flying Fox (In Tandem) | Rs 1800 |
| Flying Fox(Solo) | Rs 3000 |
| River Rafting | Rs 500 |
| Camping | Rs 999 |
There will be an entry fee of Rs 100.
If you want pickup and drop for the activity from Tapovan the there is an additional charge of the Bungy Coach (Transport) service that is INR 400 including the entry fee.
---
Bungee Jumping in Rishikesh Packages
If you're looking for an extreme adventure in your tour of Rishikesh then add this activity to your itinerary. Just imagine yourself jumping off of a high tower, while your front is facing the beautiful mountain and small river stream below you.


Bungee Jumping Rishikesh Combo Package & Rates
| Combo Activities | Price |
| --- | --- |
| Bungy Jump + Giant Swing | Rs 6500 |
| Bungy Jump + Flying Fox | Rs 4750 |
| Giant Swing + Flying Fox | Rs 4750 |
| Bungy Jump + Giant Swing + Flying Fox | Rs 8250 |
| Bungee Jumping + River Rafting | Rs 4550 |
| Bungee Jumping + River Rafting + Camping | Rs 5550 |
| Bungee Combo (Bungy Jump, Giant Swing & Flying Fox) + Rafting & Camping | Rs 9800 |
All the above rates are the base price of the packages. And these prices may vary depending upon the date of travel, group size, the month of travel, and activities you choose.
Activities at Jumpin Heights
Bungee Jump
It is the highest bungee jump in India of height 83 meters. In this activity, the feet of the jumper is tied to a large rubber(bungee) cord and he has to jump from the platform at height. INR 3550 per persons
Giant Swing
This adventure sport is sure to give you some of the most thrilling moments of your life. In this activity, you'll be swinging like a pendulum tied from the height of 83 meters. Two people at the same time can enjoy this activity.
The cost of Giant Swing is INR 3550 per person
Flying Fox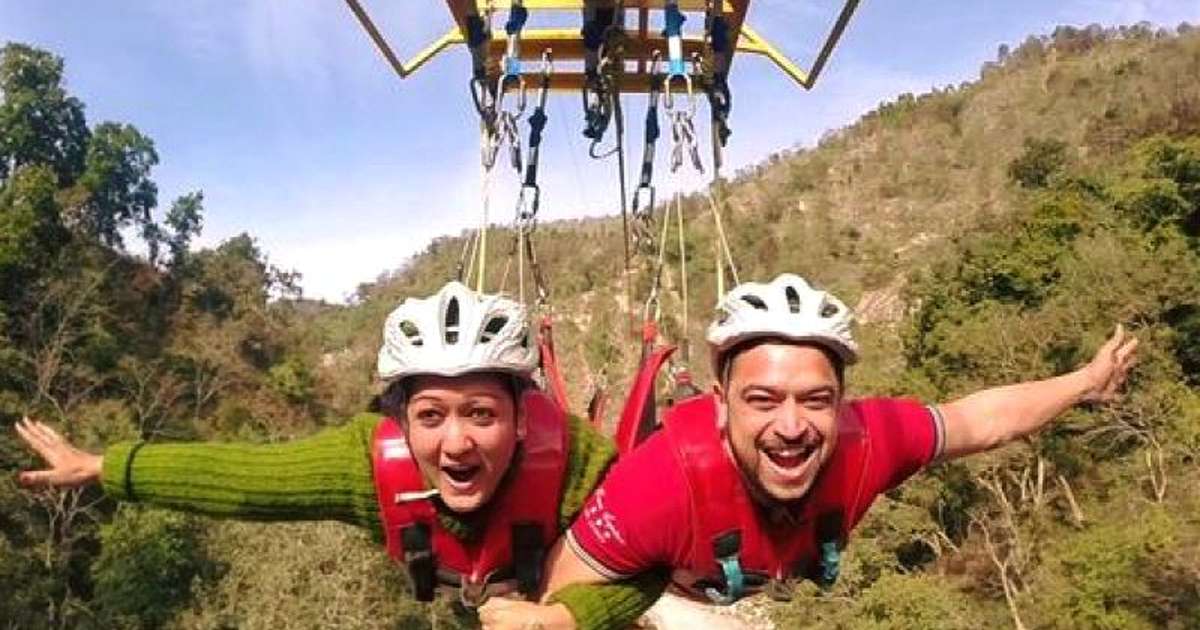 Experience the thrill of zipping 120 meters over the small Himalayan stream (Huel River). This activity can be done by 3 people together at the same time. In flying fox you are harnessed to this apparatus which is released to gravity running on the wire from the height of 120 meters to achieve the speed of up to 140 to 160 mph.
Book Bungee Jumping in Rishikesh
You can book bungee jumping in Rishikesh online from Jumpin Heights' official website (www.jumpingheights.com). If you want to book other activities like river rafting and camping with bungee jumping then you can book a combo package with us. We will make your booking in Jumpin Heights.

NOTE: Bungee, Giant Swing & Flying Fox is operated by the Jumpin Heights.
Camping & River Rafting will be provided by Camp Ganga Vatika.
How to book the bungee package?
Call or WhatsApp us @ 9456165262
Provide us your date of travel, total no of a person (Kid with age), and activities you want to book
You'll get the details of activities and quotation for the same on WhatsApp
Submit the advance amount required to reserve the slots by Bank Transfer, Google Pay, Phone Pay, or UPI.
After submitting the advance amount you'll get the booking confirmation message in your WhatsApp or email address.
---