List of Adventure Activities in Rishikesh India
Here is the list of most popular Adventure Activities In Rishikesh and the neighboring regions, have to offer to Give You An Adrenaline Rush!:
Details About All Activities in Rishikesh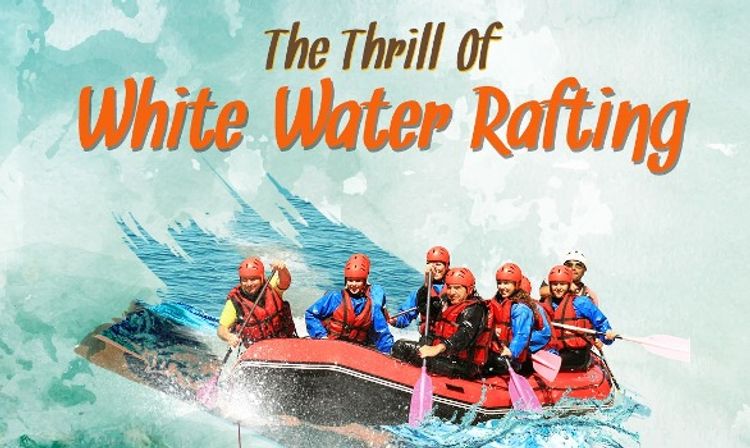 River Rafting or white water rafting is the most enjoyed adventure activity in Rishikesh. Thousands of tourists come to Rishikesh to only enjoy this thrilling water activity. Rafting in Rishikesh is operated in the holy river Ganga.
The average rafting price in Rishikesh is Rs 600 per person. River rafting price depends upon the stretch distance, rapid grade, and the number of people. Below is the cost of rafting activity according to their stretch -
If you want to book rafting camping or any activity simply contact us and ask for a package. We will provide you a customized package at the best price. Simply contact us on this number - 6398685623.
---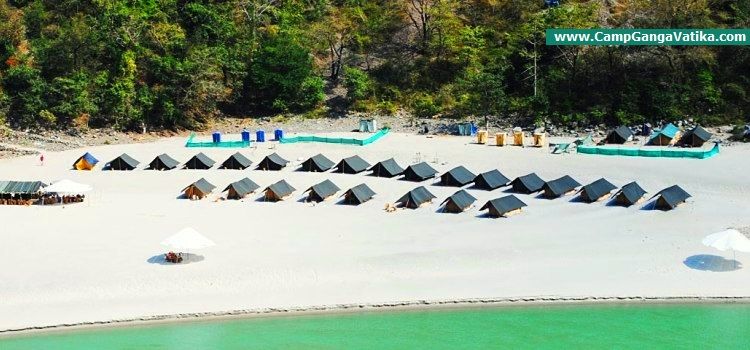 When it comes about stay in Rishikesh then camps are the most loved accommodation option of travelers. There are several categories of campsites available in Rishikesh and some of them are -
Camping package includes - stay in camps, meals, evening snacks, morning evening tea, bonfire, night music, camping activities, and much more. With there camping activity you can enjoy river rafting and lots of other adventure sports listed on this page.
Camping price in Rishikesh starts from Rs 800 and goes up to Rs 2500 per person for a 1-night stay including food. Camping price at Camp Ganga Vatika starts at Rs 600 and you can get a better deal upon contacting the tour manager.
Camping price depends upon the number of people and which camp you are selecting. If you want to know the best fit price for your group then simply give us a ring at our contact number.
---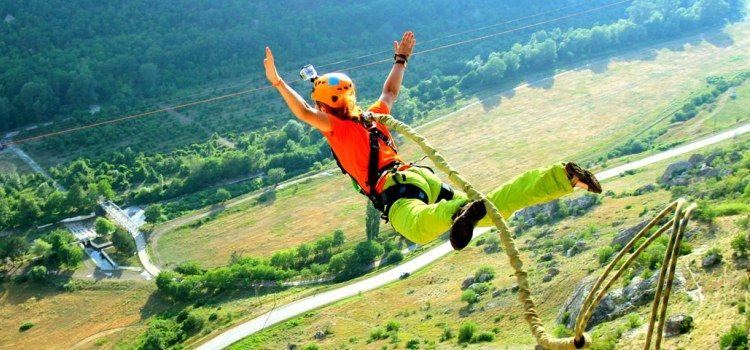 Bungee Jumping Rishikesh
Bungee Jumping in Rishikesh is an extremely popular activity amongst visitors to the city. You will be jumping out of a plane at a height of almost 83 meters and swoop down onto the stunning Rishikesh valley landscape. As you come down, you will be able to catch stunning sights of valleys.
The cost of bungee jumping in Rishikesh is 3500 per person. There are lots of other activities operated in the same place as a giant swing
This amazing activity is operated in Mohanchatti by Jumpin Heights. Designed by experts from New Zealand, Bungee Jumping in Rishikesh follow the Australian & New Zealand Standards Authority Guidelines for commercial operations inactivity and these standards have now been incorporated to form the Indian Standards which did not exist before.
---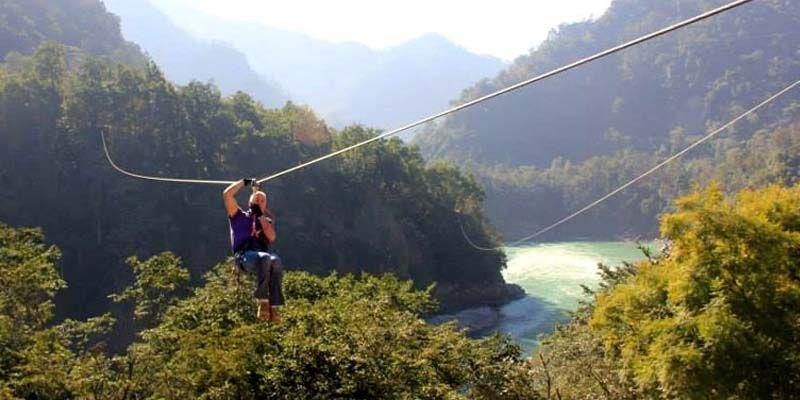 Zipline Activity in Rishikesh has operated over the holy river Ganga in a small village Shivpuri 16 km from Rishikesh city. Zipline activity not only boosts your adrenaline, but it also gives you a panoramic view of river Ganga, scenic mountains, and valleys.
Below are the details of this fantastic adventure activity -
Zipline Height - 70 meters
Zipline Distance - 750 meters
Price - Rs 1250 to 1550 per person
Age: Minimum 12 yrs
Weight: Minimum 20 kgs and Maximum 130 kgs
Timings: 9:30 AM to 4:30 PM
Zipline Location: Shivpuri (16 km from Rishikesh), near Camp Ganga Vatika: Rafting & Camping in Rishikesh
Love speed? Fulfill your desire of speeding against the winds - Book your zipline ride today with Camp Ganga Vatika. Camp Ganga Vatika offers a clubbed package for this adventure tour.
To Know more about zipline activity and its packages click the below link -
---
Rishikesh is one of the prime and the best location for kayaking in India. It's a popular adventure sport in the river in which a person uses a slim plastic made water boat known as a kayak to move across the river. It has not to doubt that the river Ganga is the finest place to experience this water activity and has several stretches of Class I and II rapids
Being the dream place for kayak lovers, thousands of tourists come here across the globe to enjoy this activity in the river Ganga. There are lots of kayaking festivals and expeditions are organized in the city by the local tour operators every year.
---
Rope Course - 20+ Rope Activities in Rishikesh
Rope course is a perfect adventure activity to enhance your coordination, team building, and balancing skills. The rope course features many rope activities in one and you have to climb, walk, and balance on specially designed ropes set high in the air.
The Rope Course activity in Rishikesh comes with three levels of difficulty stages, namely Level 1, Level 2 and Level 3 as described below -
Rope Course Level 1 - Zigzag Planks, Vertical Loge, High V, Balancing Beam, Tyre Bridge, Cross WalkMogli Walk, Zigzag RopeCross Rope, Zigzag Swing Bridge.
Rope Course Level 2 - Loge to Loge, Square Plank, Vertical Swing Tyre, Catwalk, Charlie Chaplin, Side Walk, Tyre Swing, Sky Walk, Horizontal Swing Plank.
Rope Course Level 3 - Net Walk, Ladder Bridge, V Net, Parallel Rope, Swing Beem, Horizontal Beem, Horizontal Swing Beam, Traversing Net, Burma Bridge, Sky Steps.
During performing these activities highest quality of safety standards are followed and A professional instructor will be there with you all the time. You will be tied up to securely with safety equipment and gear such that there will be no chances of falling.
How To Reach: The location is 16 km from Rishikesh Bus Stand. You can easily take any public or private transportation to the location. This location is 1 Km from Camp Ganga Vatika campsite. So if you are staying in camp, you have to go there by your vehicle or also you can easily get a cab from anywhere on for the location
---
Rishikesh is a perfect destination for both yoga and thrill lovers. Located at the foothills of the mighty Himalayas along the banks of the holy river Ganga, Rishikesh is well known for its spirituality and adventure tourism.
You can enjoy yoga drop-in classes offered in numerous yoga centers. Practice yoga and meditation while listening to the sounds of the river Ganga and experience a variety of yoga styles in the city.
Apart from the daily yoga classes, also you can take part in the professional short term yoga courses like -
Yoga Teacher Training in India
200 Hour Yoga Teacher Training Course
300 Hour Yoga Teacher Training Course
500 Hour Yoga Teacher Training Course
Yoga Retreat in Rishikesh | 3, 5, 7 Days
Many yoga ashrams in Rishikesh offer free stays with daily yoga & meditation sessions. Yoga ashrams in Rishikesh are known for their traditional yogic lifestyle and teaching. Yoga guru in these ashrams is ready to guide you through a journey of self-discovery.
---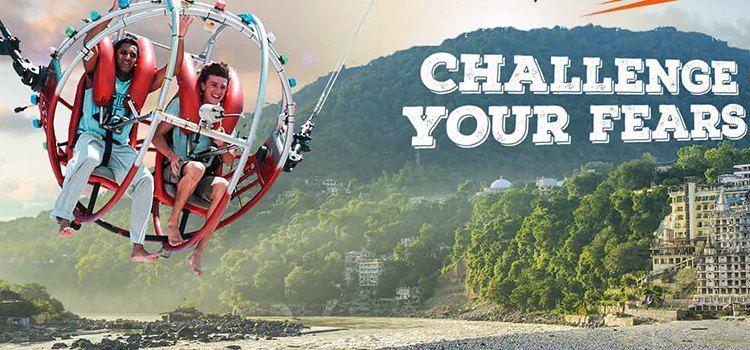 Reverse Bungee Rishikesh
This is one of the extreme adventure activities in Rishikesh. Reverse Bungee Jumping is Just opposite of bungee jumping in which you will be thrown 180 feet in the air in less than 3 seconds and attain speeds of up to 200km/hr while rotating in both clockwise and anti-clockwise direction. In this adventure sports you'll be beating the gravity force.
If you are looking for a thrill and adventure activity to do in Rishikesh the Reverse bungee is for you. Fulfill your thirst for adventure while gripping in this exciting adventure sport.
---
Body Surfing in Rishikesh in Ganga River
During this activity, you'll be floating over the river with the help of life jackets and there is no use of surfboard or bodyboard in this adventure sport. As it is part of river rafting so there is no extra price for body surfing in Rishikesh and it is included in the rafting package.
Physical fitness is required for the activity. Heavyweight and alcohol are strictly prohibited. This activity is performed under the guidance of the river guide. He will provide teach you techniques and methods of doing the activity. Safety equipment will be provided by the operator.
If you want to experience this amazing activity with camping and rafting in Rishikesh then Camp Ganga Vatika gives you the option to customize your package and add on some extra activities. So What you are waiting for? Contact our team for the best packages.
---
Sky Cycle in Rishikesh
Another Adventure in Height - Skycycle is a recently added adventure activity in Rishikesh Shivpuri & one of the best things to do in Rishikesh. Skycycle, helmet, and other safety equipment will be provided to you upon arrival to the starting point. This activity is performed with high standards of safety with professional and experienced instructors.
---
Cliff jumping in Rishikesh
Rishikesh is a well famous destination for watersports adventures. During your river rafting trips there are lots of activities performed and Cliff jumping is one of them. If you're looking for a day adventure then Cliff jumping is the best thing to do in Rishikesh.
Jumping from the cliff doubles the thrill of river rafting activity. Once you experience it, it's sure you will do it again and again. During the rafting expedition, the river rafting guide gives you several opportunities to jump off a cliff. The activity place is also called cliff jumping point and it is just 2 km from the iconic Laxman Jhula Bridge.
---
Giant Swing Rishikesh
Giant Swing in Rishikesh is a perfect adventure sport for people looking for an off-beat experience in the city. Fuel up your energy and get ready to indulge in a various number of breathtaking activities available here. The best thing about this activity is that it can be done in by 2 people in Tandem too ~ Swing Tandem bungee jumping with a friend or your partner.
Here are some basic eligibility for Giant Swing Activity in Rishikesh
Minimum Age - 12 yrs
Minimum Weight – 20 kg
Maximum Weight – 130 kg
Process: This activity is operated from the same platform from where bungee jumping is operated. You are fitted with a seat & chest harness which is connected to the fixed wire ropes and after the initial free fall, the ropes will smoothly swing you like a pendulum.
---
Superman Shot in Rishikesh
For those who love to be high up in the skies, there is paragliding and parasailing, available in Goa. Each of these places offers beautiful views of the shoreline, the foliage, valleys, and hills. Easily managed for children and adults, this activity can be done by families together.
Move on to the bungee platform, where you'll be fitted on to a seat with a chest harness. Feel the initial free fall as the ropes take over to give you a smooth swing similar to a pendulum.
---
Hiking & Trekking in Rishikesh
Due to the presence of marvelous spots with mountains, hills, lush forests, cliffs, river Ganges and glinting waterfalls, Rishikesh is a great adventure destination for thrill-seekers. The majority of the tourists desire to enjoy hiking and trekking in Rishikesh once they reach the destination. Hiking trips are organized by many tour operators or you can go by self also and explore the mountains on their foot. These hiking & trekking trips deliver breathtaking views of the majestic Himalayan mountains.
Here are some best place for hiking and trekking in Rishikesh
Kunjapuri Devi Temple Trek
Waterfall Trekking
Neer Gaddu Waterfall
Vasisith Gufa
Garud Chati Waterfall
Hiking along the banks of Ganga
Village Trek
There are other hiking spots in Rishikesh also but not quite popular, probably because of their strategic location or difficulty level. You can explore them too
---
Rock climbing & Rappelling in Rishikesh
Rock climbing has gained much popularity in Rishikesh as an adventure sport, and there are now several spots in Rishikesh where you can experience this unique adventure activity. Under the guidance of a trained instructor, Rock climbing and rappelling activities are performed on the natural rock formations with the safety gears which will be provided by the operator.
---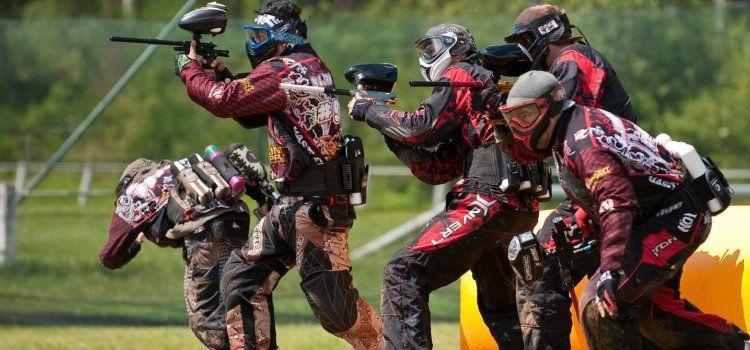 Paintball in Rishikesh
Played for recreation, paintball is a team shooting sport in which players eliminate opponents from play by hitting them with spherical dye-filled gelatin capsules called paintballs that break upon impact. [Read More in Wikipedia]
This adventure in Rishikesh is a perfect activity for a corporate outing and a large group of friends. People of all ages can participate in together and it requires no prior training to join the activity. Play on a wide field while running and chasing your opponents.
---
Water Zorbing in Rishikesh
If you are searching to try watersports in Rishikesh, which will give you a memorable adventure experience. This adventure in Rishikesh can be enjoyed by people of all ages. Operated in village Shivpuri, one can have great fun inside an air-filled ball rolling in water bodies.
---