Where to Learn Yoga in Rishikesh
Yoga Ashrams & Certified Traditional Yoga Schools are the best place to learn and practive yoga in Rishikesh.
It is best to start learning yoga under the guidance of a experienced yoga teacher (Guru). Yog guru not only lead you through the correct way of doing each technique and learn yoga asanas (postures) properly but also helps you to avoid possible injuries.
Yoga Ashrams in Rishikesh
If you are choosing Rishikesh for learning yoga then yoga ashram can be a great place to learn and understand Yoga in its true essence. The peaceful nature of the ashram, combined with yoga and meditation, can help you to calm down your stressed body-breath-mind.
Relax and rejuvenate in the soothing ambience of these centres and forget every stress of the world. Many yoga seekers from around the world comes here for a serious and the traditional study of Yoga. The main moto of these ashrams is to spread and share the knowledge of yoga apart making the money.
There are numerous yoga ashrams spread across the cityy which help people to attain spirituality as well as have a deeper understanding of themselves. Here are list of some authentic and traditional yoga ashrams in Rishikesh where you can deepen your yogic knowledge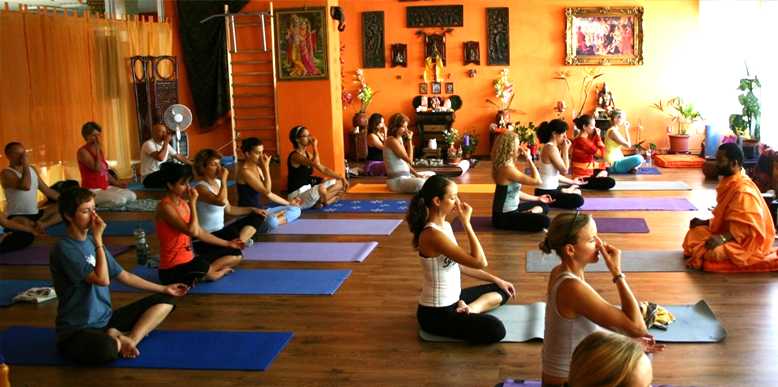 Sivanada Yoga Ashram
Founded by Swami Sivananda in the year 1936, This well known ashram is located near the lRam jhula 3 Km distance from Rishikesh City. Organised by the divine life society, Sivanada Yoga Ashram Rishikesh is one of the famous and most reputed yoga ashram in India. Surrounded by the magnificent Himalayan mountain ranges, Ashram offers only the residential courses and classes with all the modern amenities to ensure the guests have a comfortable stay and a highly spiritual experience through their programs.
This Yoga Ashram offers daily basis yoga and maditation classes. You will also get a chance to be part Satsangis which hel in early morning and evnening on regulr basis. The classes are taught by the dedicated Teachers having decades of experience in their respective field.
Website : www.sivanandaonline.org
---
Parmarth Niketan Rishikesh
Founded by Swami Shukdevanandji Maharaj, Parmarth Niketan is one of the reputatd and larget ashram in India located in the serene himalayan valley, along the banks of the Ganges. This ashrams offers largest accommodation in Rishikesh having over 1000 rooms with sacred atmosphere and beautiful gardens.
Daily shedule of this majestic yoga ashram includes - Universal prayers and lecture, general Yogasana & Meditation, Gita Paath & Pravachan in Hindi, Ramayan Paath & Pravachan in Hindi, Ganga Havan & Aarti during sunset, satsang & kirtan at night.
In addition, there are frequent special cultural, Hindi, Music, Sanskrit classes and spiritual programs given by visiting revered saints, acclaimed musicians, spiritual and social leaders and others. All visitors are welcome to participate in our daily activities.
Read more in : Wikipedia
Website : www.parmarth.org
---
Swami Dayananda Ashram
Situated near the bank of holy river Ganga, the ashram facilitates yoga and meditation practices. Founded by Swami Dayananda Saraswati in 1960, Swamiji and his disciples conduct regular residential courses at the ashram with the focus on Bhagavad Gita and the ten principal Upanishads as commented upon by Adi Shankaracharya.
In addition, throughout the year, a resident acharya holds daily discourses on the Upanishads, incorporating analytical examination of Adi Shankaracharya's commentaries.
Website : www.dayananda.org
---
Yog Niketan Rishikesh
Just like in other Yoga Ashram in India, Yog Niketan Ashram also organize multiple style of yoga classes in Rishikesh and Yoga Alliance certified Yoga teacher training courses. It was Founded by Swami Ygeshwaranand Paramahans (Master of Raj Yoga).
The facilities at Yog Niketan Ashram in Rishikesh is simple, clean and comfortable. With the yoga teacher training courses, students looking to rejuvenate are also welcome in the Arhanta Yoga Ashram in India for a Yoga retreat or a Yoga vacation
---
Swami Rama Sadhaka Grama Dhyana Gurukulam
Situated in the foothills of the Himalayas, in the holy city of Rishikesh, This ashram was foundd dby founded by H. H. Swami Veda Bharati in 2002. Spiritual seekers are guided through the self-transformation required for the realization of their own true Self, the goal of life, the highest of all joys.
Students are trained to become teachers, leaders and spiritual guides in the tradition. Swami Rama Dhyana Gurukulam teaches the ancient knowledge and practical disciplines of the Meditation Tradition of the Great Yogis of the Himalayas in a contemporary context
The campus was designed in accordance with the ancient Vastu principles. The architecture and beautiful gardens calm and inspire the mind. This setting makes it an ideal place to study, practice and experience the system of the Tradition of Yoga & Meditation of the Himalayan Masters, which leads directly to the body-mind transformation required to experience just the Peace, Freedom, Happiness, Consciousness and Eternity of your inner true Self or Samadhi.
Website : www.sadhakagrama.org
---
Omkarananda Ganga Sadan
Omkarananda Ganga Sadan is a beautiful Guest House of Omkarananda Ashram Himalayas at Rishikesh, Muni-ki-Reti, right at the bank of the holy river Ganga with a picturesque view of the holy river and the surrounding hills
All yoga courses & classes at this place is organised by the Patanjala Yoga Kendra which was established in 1993 on the banks of the Holy River Ganges in Rishikesh, the world capital of Yoga. Centre is recognised by RIMYI in Pune.
Organiser : Patanjala Yoga Kendra
Yoga Instructor : Usha Devi
Website : www.iyengaryoga.in
---
Kriya Yoga Ashram Rishikesh
Kriya Yoga Ashram in Rishikesh is located in the beautiful himalayan valleys range of Uttrakhand which is situated in the north of the India. The ashram is spread over more than 4 acres of lush green land.
Swami Shankarananda Giri teaches Kriya Yoga in this ashram to anyone who desires to receive instructions in the path as a means for spiritual evolution.
Website : www.kriyayoga-shankarananda.com
---
Yoga Schools in Rishikesh
Rishikesh is one of the most popular travel destinations for yoga teacher training's (and retreats). Yoga Schools in the city provide the students with the calm and serene environment with the touch of spirituality which always gain ground for the perfection in learning yoga.
Here are some top reputated and authentic yoga schools/centers in Rishikesh which are authorised by Yoga Alliance USA and best option for yoga teacher training in Rishikesh.
Apart from yoga capital of the world, Rishikesh is also know as adventure hub of india as it offers lots of asventure sports to do. You can also enjoy the most amazing adventure activities like river rafting in Rishikesh, camping in rishikesh, trekking, kayaking, bungee jumping, zipline (flying fox) and a lot more depending on your interest.
---
Yoga Courses in Rishikesh
Most of the yoga schools in Rishikesh are regiestered with the Yoga Alliance USA and offers yoga alliance certified yoga teacher training courses.
Goal of these yoga teacher training courses is not only to deepen your yoga practice and knowledge but also to enhance your teaching skills. Hence all these yoga courses are so well structured to be suitable for any yoga seeker whether he or she is a beginner or has been practicing yoga since many years.